Education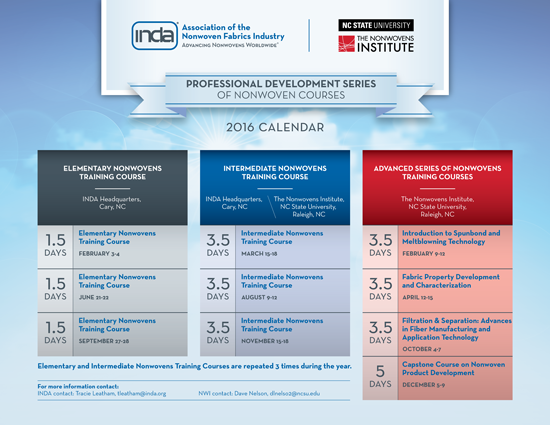 To see full size of this image, click here.
Advancing Knowledge. Enhancing Skills. Moving Ahead.
As our industry advances by leaps and bounds, it becomes more and more important to stay in-the-know. INDA is committed to bringing nonwovens professionals world-class educational opportunities.
2016:
The Professional Development Series: A New Series of Nonwovens Short Courses
INDA and North Carolina State University's Nonwovens Institute (NWI) jointly organize a series of nonwovens short courses. This series will give industry professionals targeted and flexible opportunities to learn and advance career development goals.
The Professional Development Series offers intense learning opportunities to newcomers, and Continuing Education Units to Intermediate and Advanced Series participants. The full series includes:
Elementary: With a focus toward professionals who are new to nonwovens, this 1.5-day course reviews the basic nomenclature, production processes, fabric attributes, market uses and trends of nonwovens. June 21-22 and September 27-28 at INDA's Headquarters in Cary, NC. Learn more.
NEW! Intermediate Nonwovens Training: For industry professionals familiar with nonwovens or those with a more technical background, this new 3.5-day course combines INDA's Advanced Course with elements of NWI's Introduction to Nonwoven Products & Processes. Sessions at both INDA's offices in Cary, NC and NWI's state-of-the-art pilot lines and science/analytics labs at the NC State University campus in Raleigh, NC, March 15-18, August 9-12, and November 15-18. Learn more.
EXPANDED! Advanced Series: For industry participants looking for deeper knowledge in specific nonwoven areas. This series of courses includes Introduction to Spunbond & Meltblown Technology (February 9-12), Fabric Property Development and Characterization (April 12-15), Filtration & Separation: Advances in Manufacturing and Technology (October 4-7), and a 5-day Capstone Course on Nonwoven Product Development (December 5-9). Taught by NWI instructors at the NWI at NC State University. All Advanced Series courses are offered once a year. Learn more.
INDA Training Courses:
INDA Nonwoven FILTER MEDIA Training Course
The Nonwoven FILTER MEDIA training course is designed for industry professionals who desire to learn more about the development, testing and application of nonwovens in filtration. Learn more.
WIPES Academy is a new training course offering. The instructor is wipes industry expert, Rob Johnson, Smith, Johnson & Associates.  Learn more here.