Education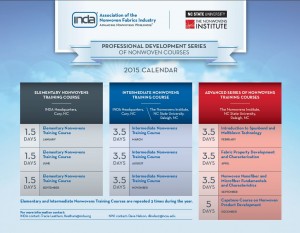 To see full size of this image, click here.
Advancing Knowledge. Enhancing Skills. Moving Ahead.
The more you know, the more successful you and your company will be. INDA is a world-class leader in organizing and presenting nonwovens training courses for professionals at every level.
INDA currently offers three courses for your training needs: the Elementary Nonwovens Training Course, the more advanced Nonwovens Course and the Nonwoven FILTER MEDIA Training Course
INDA Elementary Nonwovens Training Course
The Elementary course is designed for the newcomer to nonwovens. Here, you will get the very basics about the nonwovens industry, so you have the knowledge you need to understand your company's products and the marketplace.
INDA Nonwovens Course
The INDA Nonwovens course is designed for the more advanced nonwovens professional. If you already have good knowledge about nonwovens but would like to know even more, then this comprehensive three-day course will suit you perfectly.
INDA Nonwoven FILTER MEDIA Training Course
The Nonwoven FILTER MEDIA training course is designed for industry professionals who desire to learn more about the development, testing and application of nonwovens in filtration.
At INDA, we're continually looking to add new educational courses, so be sure to visit often to see the latest.
Wipes Academy

Wipes Academy is a new training course offering. The instructor is wipes industry expert, Rob Johnson, Smith, Johnson & Associates.